DIY Turkey Dude for Thanksgiving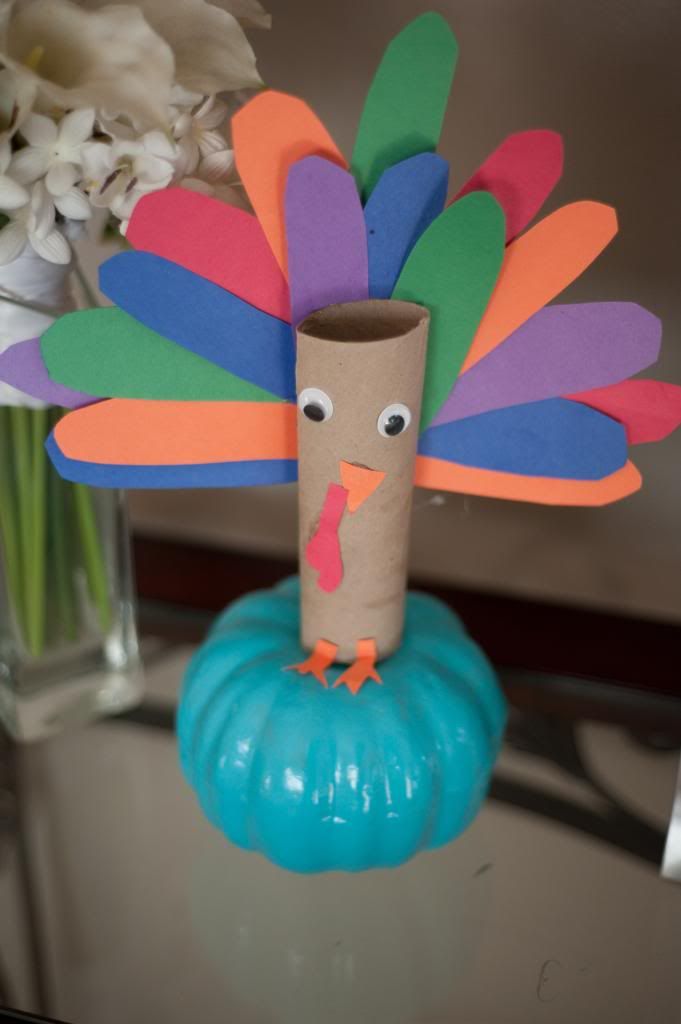 Again, I need to start this off by saying, "Shannon no good at craft" (insert asian accent?).
But, really, I can only do the easy ones. If it's on this blog, it for sure has a few qualities:
1. easy, pre-K easy, (for the mom)
2. cheap, almost all ingredients are found at home
Ok, so here is what you need.
1. Empty toilet paper roll
2. Construction paper-cut feathers, beak and legs. No pattern needed people. Don't get all, "ohhh i need to be perfect, i need to cut a straight line....just cut....and not your finger!
3. Googely eyes -I use a googley eyes on EVERYTHING! {it's so fun!}
4. hot glue gun (use caution here, clearing throat and raising eyebrow)
And that's it. Have at 'er. Just glue the eyes, feathers, beak and little legs on. My boys basically used theirs as superhero turkey fighters and went to battle. Gobble gobble.
And how about a DIY Turkey Baby? If you have a cute baby at the moment, you should totally do this! It was so cheap and easy and fun! So, you saw this cute idea on Pinterest and now you want one for your Thanksgiving huh?
Well, I don't blame you. I did the same thing last year. It is very E.A.S.Y. Trust me here. I don't craft or sew or go near needles or thread so this had to be Shannon-approved. And it was.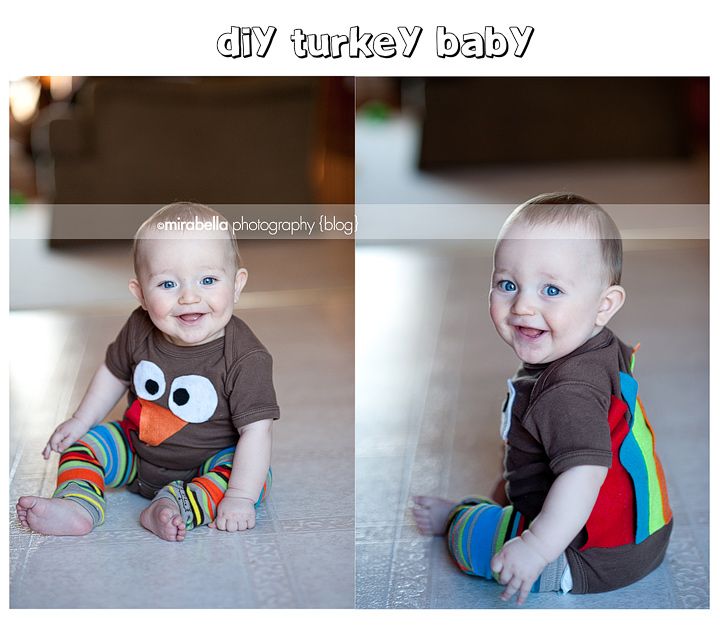 So,here are the ingredients.
(1) very cute baby. -had one of these at home. :)
(1) brown Onsie-I got mine at Hobby Lobby for seriously $2.
(5) Felt paper size sheets-got mine at Walmart for like chump change per sheet. White for eyes, Black for eye balls, orange for gaggle and feather, blue feather, yellow/green feather, red feather.
Some fabric glue.
Steps
1. Cut out all the parts.
2. Glue them on
3. Lay out to dry.
4. Put onsie on cute baby for a complete Turkey Baby.
5. Take photos.
And finally,
6. Enjoy your Turkey Baby.......and try not to eat this one.